Off Site Shredding in Trenton, NJ
Trenton Shredding & Records Storage's partners offer off site shredding, which is a great solution for those with larger, recurring shredding projects. Off site shredding differs from mobile shredding because the materials are not shredded at your location.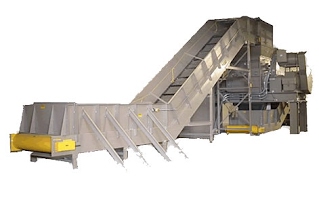 What makes this process so preferable is that it is usually cheaper than on site shredding, as well as significantly less time-consuming. Off site shredding is fully compliant with every current federal and New Jersey privacy law, including HIPAA. For those who have projects larger than 6 filing cabinets, its also a great option, as the shredder at our plant is an industrial sized shredder, capable of shredding up to 20,000 pounds and hour.

Your documents will be picked up from your Trenton location and loaded into a secure truck by trained security professionals. Then they are taken to our secure shredding facility for destruction. After they are destroyed, the shredded materials from your and other clients' shredding projects are co-mingled and baled together.

Co-mingling the shredded materials enhances security because it makes piecing the materials back together virtually impossible. Finally, the materials are taken to a recycling facility.

For regularly scheduled service, secure cabinets are brought to your location at no cost. You may simply drop your files in the containers, and our contractors shred the documents at the regularly scheduled time.

Take a Look at How Off Site Shredding is Done in Trenton, NJ:
Your documents are collected by trained security personnel and loaded into a secure truck.
The truck is safely transported to a secure shredding plant.
The paper is shredded, compacted, and recycled into new paper. Your shredded documents are co-mingled, scrambling the pieces thoroughly so that they can't be pieced back together.
A Certificate of Destruction is provided.
Protect Your Trenton Home and Business With Regular Off Site Shredding Today!
Trenton Shredding & Records Storage's contractors shred your sensitive documents with integrity, so you can spend less time worrying about your security. Let us help ensure your safety by providing off site shredding service options.
For cheap, fast, reliable off site shredding, contact Trenton Shredding & Records Storage today! Just fill out the form to the left to request a free, no hassle quote, or give us a call at (609) 920-0306.